16 Dec 2022
Driven by Change with McLaren F1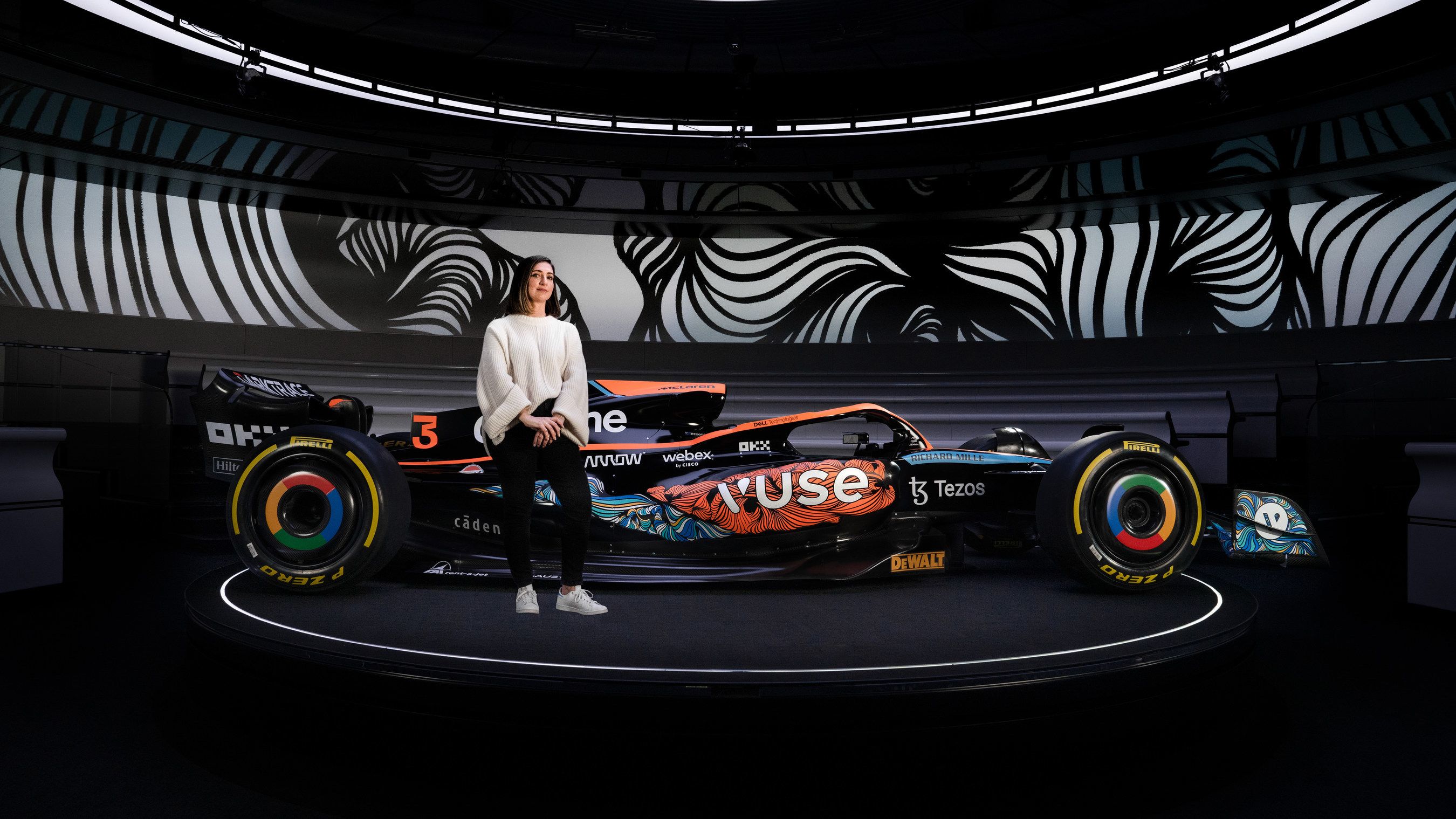 The McLaren F1 Team recently joined forces with up-and-coming Lebanese artist Anna Maria Aoun, aka Anna Tangles, on a special collaboration that saw its Formula 1 cars given a unique look for the Abu Dhabi Grand Prix 2022.
The opportunity came about through Driven by Change, an initiative run by McLaren F1 in partnership with global vape brand Vuse, with the aim of providing opportunities in the elite world of motorsport to underrepresented creatives.
Building on the legacy of 2021 Driven by Change livery artist Rabab Tantawy, the design for the 2022 McLaren livery was inspired by Anna's own personal journey, where she switched her day-to-day office job to follow her dreams and dedicate her life to creating art.
The final design, which was applied to the McLaren F1 cars ahead of the event, was based on an ever-changing formation of lines that Anna said represents the feeling of liberation, calm and focus that creativity
Infused with the iconic papaya and blue colourway of the McLaren F1 team, Anna equates the lines in her art to the circuit track and a sense of calm – something that F1 drivers are required to do every time before entering the car for practice, qualifying and the actual race.
"As a lifelong F1 fan, I never believed that I would one day have my artwork showcased at a Grand Prix – and it's all thanks to Driven by Change," Anna said. "I dedicate my spare time to training and encouraging other artists, particularly other Middle Eastern female creatives, to embrace their passion and skills, and so it's a privilege to be a part of a community that supports the same ambition of empowering underrepresented artists in this way."
Anna's involvement with the Driven by Change initiative has allowed her to showcase her art and talent on the global stage – an experience she now uses as part of the support she offers to her local creative community.
Through this, she shares advice, learnings and techniques with artists looking to explore their creativity, embrace focus, and unleash their potential through her workshops and mentorships.
John Beasley, group head of brand building at BAT, a multi-category consumer goods business that also supported the project, added: "Driven by Change was designed to build legacy, and we could not be prouder that our 2021 artist, Rabab identified Anna to carry on that legacy of creativity and change.
"Anna embodies the Driven by Change ethos, and it's great to see an original piece of her artwork have its time to shine on one of the world's fastest-moving canvases. We're extremely excited to see what the future holds for Anna and to uncover future artists for her to pass the paintbrush to."
McLaren F1 had a successful race at the Abu Dhabi Grand Prix 2022, which was the final Grand Prix of the 2022 season, with both of its drivers finishing in the top 10.
Lando Norris was able to secure a sixth-place finish, while Daniel Ricciardo, who was driving for McLaren F1 the last time, was ninth.