03 Nov 2022
Going green with vehicle wraps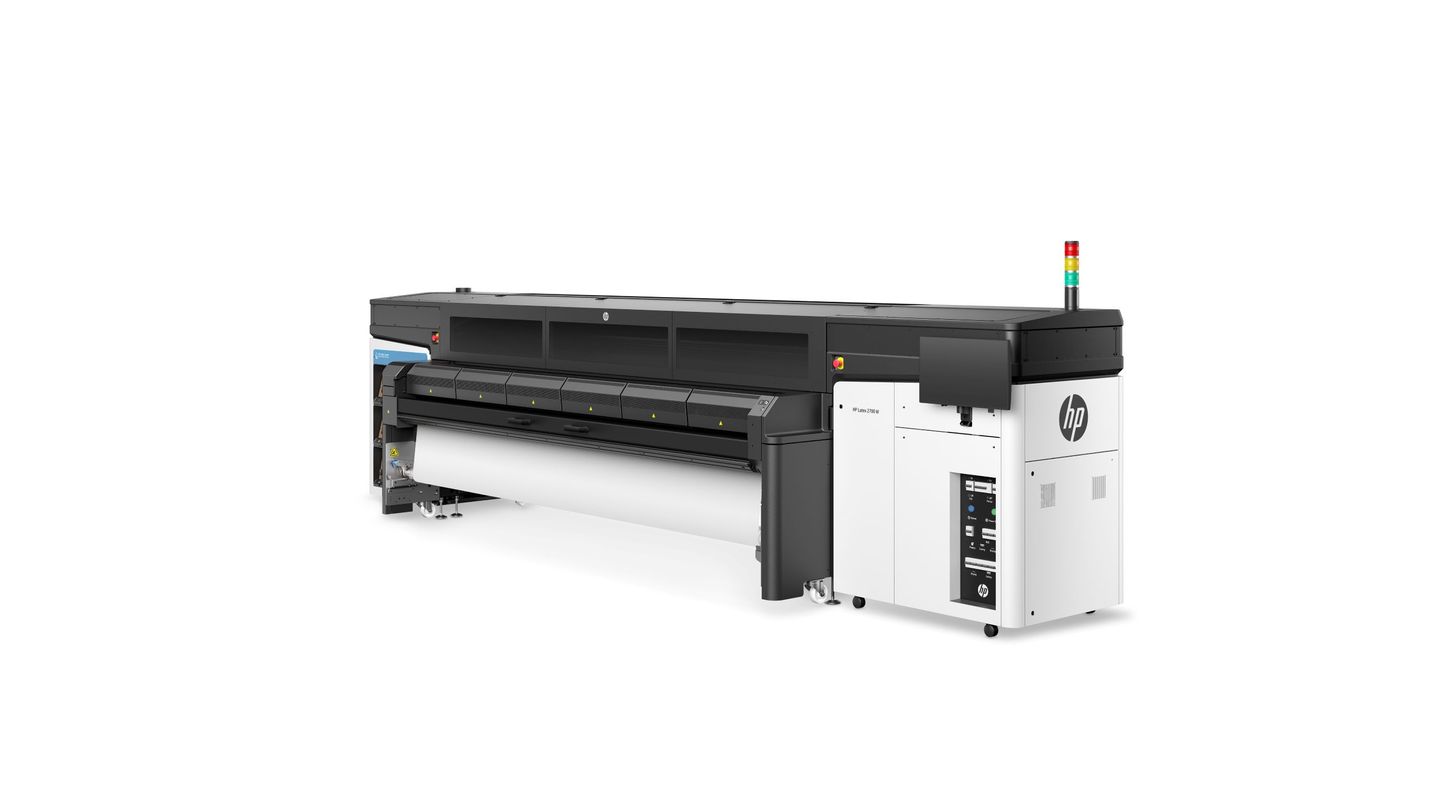 No matter what industry you are operating in or the type of work you are doing, there is no escaping the importance of sustainability in the modern world. The challenge for businesses of all kinds is to how they can react to demand for greener products and services.

This is very much the situation in the vehicle wrapping and graphics market, with wrappers being handed the additional challenge of ensuring their wraps not only look the part but are kinder to the world around them.

Here, we look at some of the changes wrappers can make to shine a new, greener light on this market and offer customers around the world access to sustainable solutions.
Plotting a greener future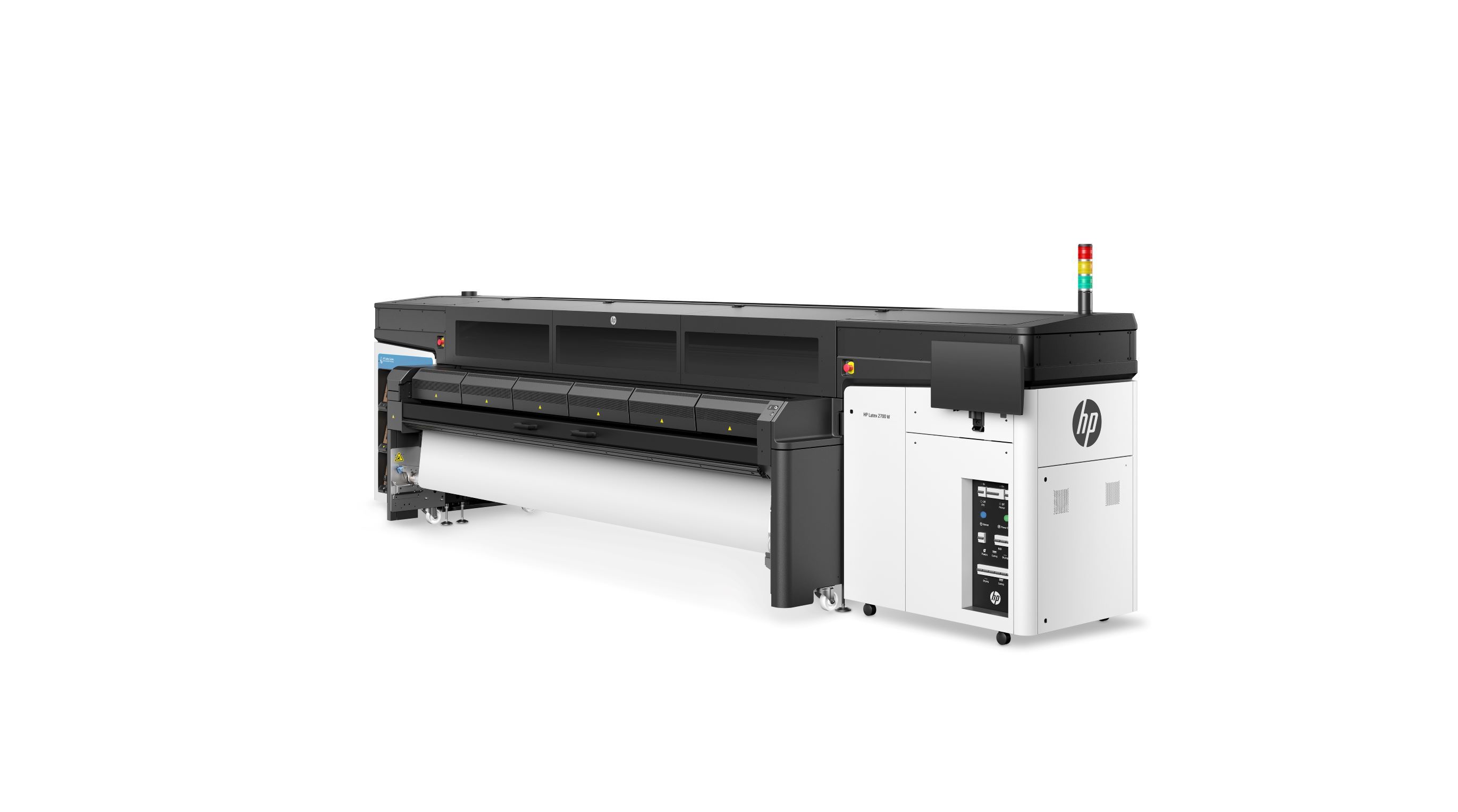 Caption: The HP Latex 2700 can print at speeds of up to 89sq m/hr on media as wide as 3.2m

HP has long been an advocate of sustainable printing, with popularity in its HP Latex print technology having increased in recent years as more print companies seek to improve their environmental image. HP Latex technology runs using water-based inks, making it a greener option for those creating vehicle wraps

"The rising demand for environmentally friendly products across all markets means companies have little choice but to respond by offering an eco-friendlier service to their customers," said Olivia Kelleher, WW GTM sustainability lead at HP.

"Not doing so means you risk missing out on profitable work, with sustainably minded clients likely to go elsewhere and work with companies that can meet their demand for planet friendly products.

"The good news for printers is that there is plenty that they can do to become a more sustainable operation – all without having to break the bank. Whether this is switching to more planet friendly printing equipment, switching the types of consumables and materials you work with, or even installing solar panels on the roof of your factory, going green needn't be a tricky or expensive process."

But what is the main benefit for wrappers? Kelleher said adopting more sustainable practices will be to make your company a more attractive prospect for customers seeking a like-minded print service provider. Kelleher added this is even true for those in the vehicle market, explaining that they do not want to be associated with creating excess waste that will end up in landfill, and instead want to shine a green light on their own business.

"One of the main challenges for wrappers over the years has been the material that is required to wrap cars," Kelleher said. "Previously, this was primarily PVC-based, which is widely regarded as one of the most harmful plastic-based materials in use.

"However, the emergence of PVC-free wrapping films and PVC-free over laminate in recent years has helped open new doors for those in this market.

"Add in environmentally friendly print technology such as our leading HP Latex printers and a practice that was once regarded as being unsustainable and harmful to the world suddenly looks significantly greener."

Recommending machinery for wrappers, Kelleher pointed to the HP Latex 2700, a large-format industrial printer that can print at speeds of up to 89sq m/hr on media as wide as 3.2m, thus allowing users take on a wide range of larger vehicle wrap jobs. It can also produce excellent quality prints on all types of film media.

To support its customers, HP now offers HP Print Professional Service Plans – end-to-end subscription services that help to radically improve efficiency and grow your business. These plans are available as 'Basic' or 'Plus', with each package type offering different benefits to users.

"Because no two businesses are the same, we offer different packages that cater to different needs," Kelleher said. "Both plan types include expert, remote support from HP, as well as service parts and maintenance, proactive support from the HP Service Center and free training content from HP Learn."
Building for a greener future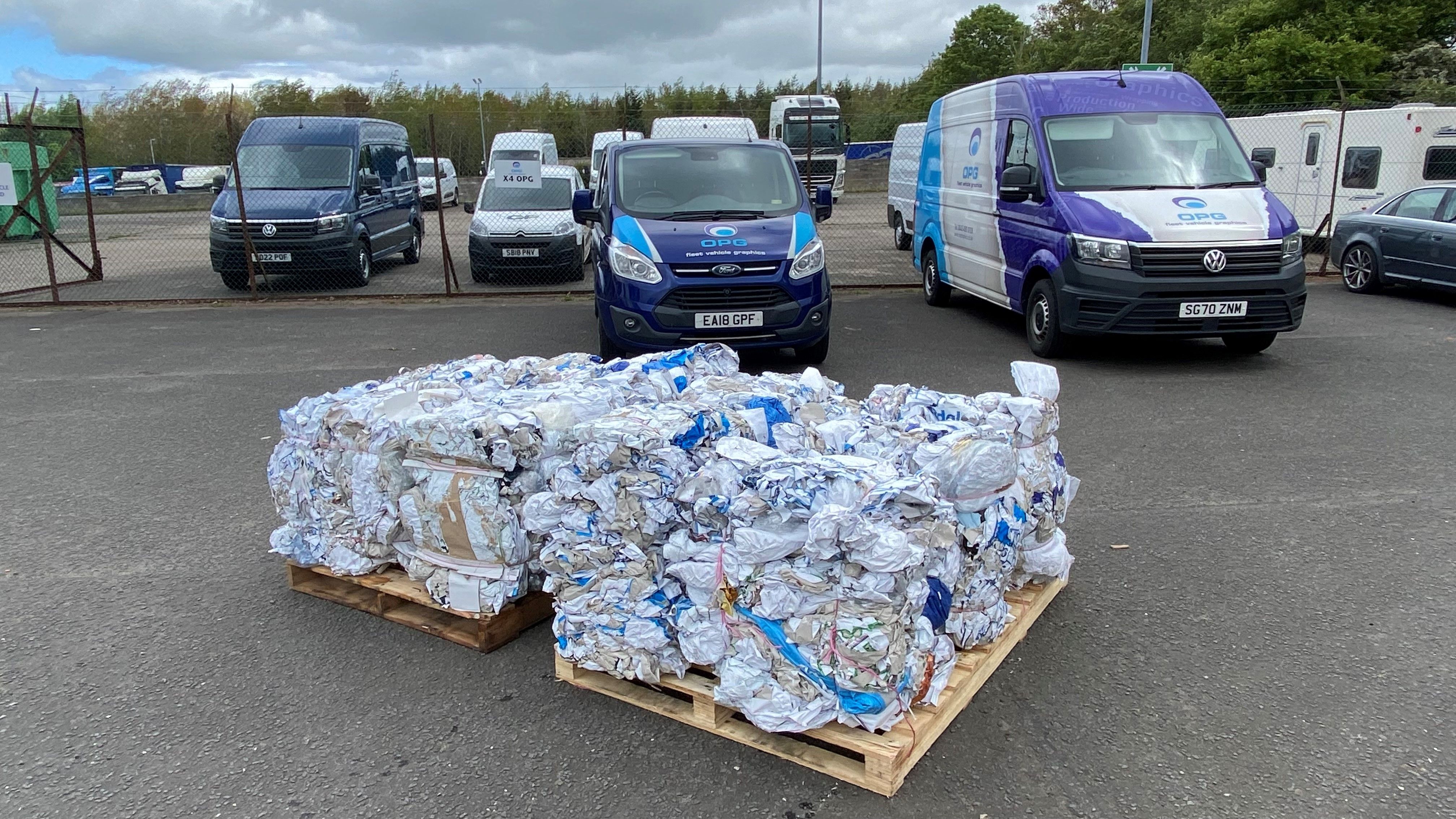 Caption: OPG and Metamark divert substantial amounts of waste that for many years was destined for landfill or incineration

HP's Latex technology also played a major role in Scottish fleet graphics specialist OPG being able to deliver PVC fleet branding offering that is 100% recyclable. This achievement is all the more impressive given the traditional, "planet-unfriendly" nature of PVC materials.

Thanks to its partnership with Metamark, OPG can recover and stream livery graphics it produces, using Metamark media, for recycling, thus keeping valuable resources out of landfill and incineration waste streams. The process, developed by Metamark, is known as MetaStream and the products it yields from the liveries and graphics it recycles include luxury paper goods, traffic cones, furniture and many other recyclable articles.

OPG collects PVC and liner waste during the graphics manufacturing process, at the point of installation or during any end‐of‐life recovery. This recovered waste is then baled, palletised and collected by Metamark and processed through MetaStream.

Recovered materials are recycled by Metamark and turned into products that can be reused across a host of applications. As such, this process diverts substantial amounts of waste that for a long time was destined for landfill or incineration, which in turn makes livery production part of the emerging circular economy.

OPG receives an audited certificate to declare recovered, qualifying materials were recycled using MetaStream. This can be passed on to the company's customers to demonstrate that their vehicle liveries look the part and contribute to lessening the environmental impact.

The MetaStream recycling programme works with many of Metamark's materials commonly specified and used in vehicle branding, with the qualified range including material produced for long‐term livery applications and shorter‐term advertising promotions.

All are tested, profiled and compliant with HP Latex Ink, which as a water‐based ink, is fully recyclable, returnable, non‐hazardous and safe for disposal. OPG is a long-term user of HP kit and currently runs a HP Latex 3200 printer and a new HP Latex 800W printer.

"Since OPG has been successfully specifying HP Latex Inks and Metamark premium films for years, OPG's existing customers' qualifying fleet graphics, even those produced before the availability of the MetaStream process, qualify for inclusion in the new MetaStream programme," OPG said.

"OPG looks forward to playing its part along with myriad interested parties to proactively respond to the climate crisis optimistically and responsibly."

It appears that "going green" is something that wrappers should consider moving forward if they are to retain customers and attract new clients. Switching to more sustainable material and taking on more planet friendly printing kit can set you on the pat