24 Apr 2023
Nissan Motorspot team up with Casio to create new watch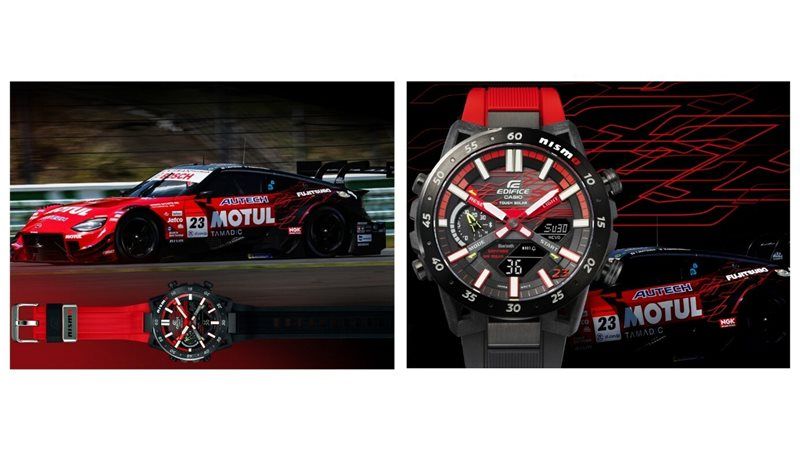 Nissan Motorsport, the racing team more commonly known as 'Nismo', recently linked up with world famous watch manufacturer Casio Computer on an innovative project whereby its newly decorated car served as the inspiration for a new watch.
The car at the centre of the initiative was the #23 Nissan Z race car that has been competing in the most recent edition of Japan's most prestigious motorsport race the Super GT, the 2023 season of which began at the weekend.

The opening round of the 2023 calendar was the Okayama GT 300km Race at the Okayama International Circuit, while the series will go on to visit a number of other famous tracks all across Japan. This year's tournament will conclude with the Motegi GT 300km Race at the Mobility Resort Motegi in November.

Ahead of the season's opener, the design team at Nismo had been busy prepping the Nissan Z GT500 car for the upcoming campaign. The car will again be driven by the experienced pair of Japan's Tsugio Matsuda and Ronnie Quintarelli of Italy.

This year, the car has taken on a striking, two-tone red and black design, with the colour fading into each other at the midpoint of the car. As is of course is the case with motor racing, and indeed motorsport of any kind, the car also carries the names and branding of the team's many sponsors that will support Nismo throughout the campaign.
Time it right
As a supporter of the team since 2021, Casio Computer wanted to do something special to mark this year's series and worked with the team at Nismo to produce a new watch that replicated the colours of the car – showcasing an excellent example of crossover work between the two industries.
Part of the Edifice line of watches, the Edifice ECB-2000 is coloured in red and black, while it also features the famous 'Z' logo and the number 23 that also appear on the racing car. In addition, a section of the bezel's edge was tapered to create a sharp curved-line form inspired by the roofline of the car, which evokes the look of a Japanese sword.

All of this was designed to tie in with the brand's 'Speed and Intelligence' concept, which itself took inspiration from the Nismo team and its own aspirations for glory during this year's Super GT.

The team of Tsugio and Quintarelli clinched pole place in qualifying in the opening round of the Super GT 2023 season and went on to win the race.

The pair finished seventh in the 2022 Super GT, with their best finish being second in the Sugo GT 300 km Race at the Sportsland Sugo in September. The duo actually qualified first for the Fujimaki Group Suzuka GT 450 km Race at the Suzuka Circuit but could only manage a fifth-place finish.

Tsugio and Quintarelli won the GT500 class of the Super GT in both 2014 and 2015.