03 May 2023
Inaugural WrapFest hailed a success after debut event welcomes hundreds to Silverstone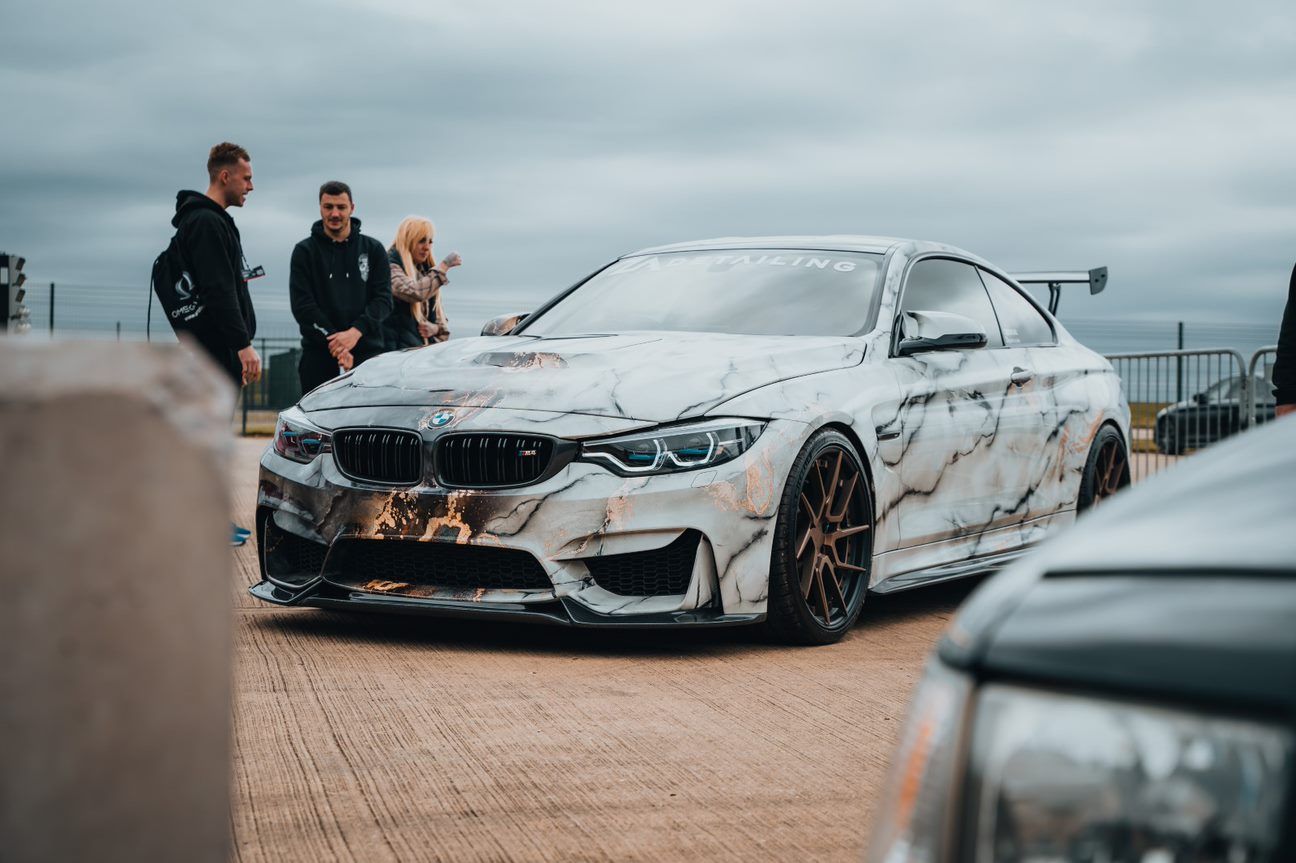 WrapFest, the brand-new event dedicated exclusively to vehicle wrapping, vinyl installation and detailing launched by FESPA, was hailed a runaway success by the industry last week as it took place at Silverstone for the first time. Surpassing all expectations, the event welcomed nearly 800 individual wrap professionals to the iconic racing circuit from 26-27 April 2023, and proved to be a true hotbed of innovation and creativity.
Described as an event like no other, WrapFest certainly lived up to the hype, with hundreds of experts from across the wrapping industry coming together to network, learn and do business in a relaxed and informal setting against a festival-style backdrop of food trucks and music. As visitor, Matthew Abel, from Encore Customs explained:
"I've never been to an event like WrapFest before. I had some really interesting discussions with experts and discovered many new suppliers such as APA and Grafityp with Omega Skinz, which I found really eye-opening, particularly as I have recently started my own business. I enjoyed learning from the live demonstrations too, particularly The Wrap Institute's session, and feel I really benefited from the large number of enthusiastic wrappers in one place."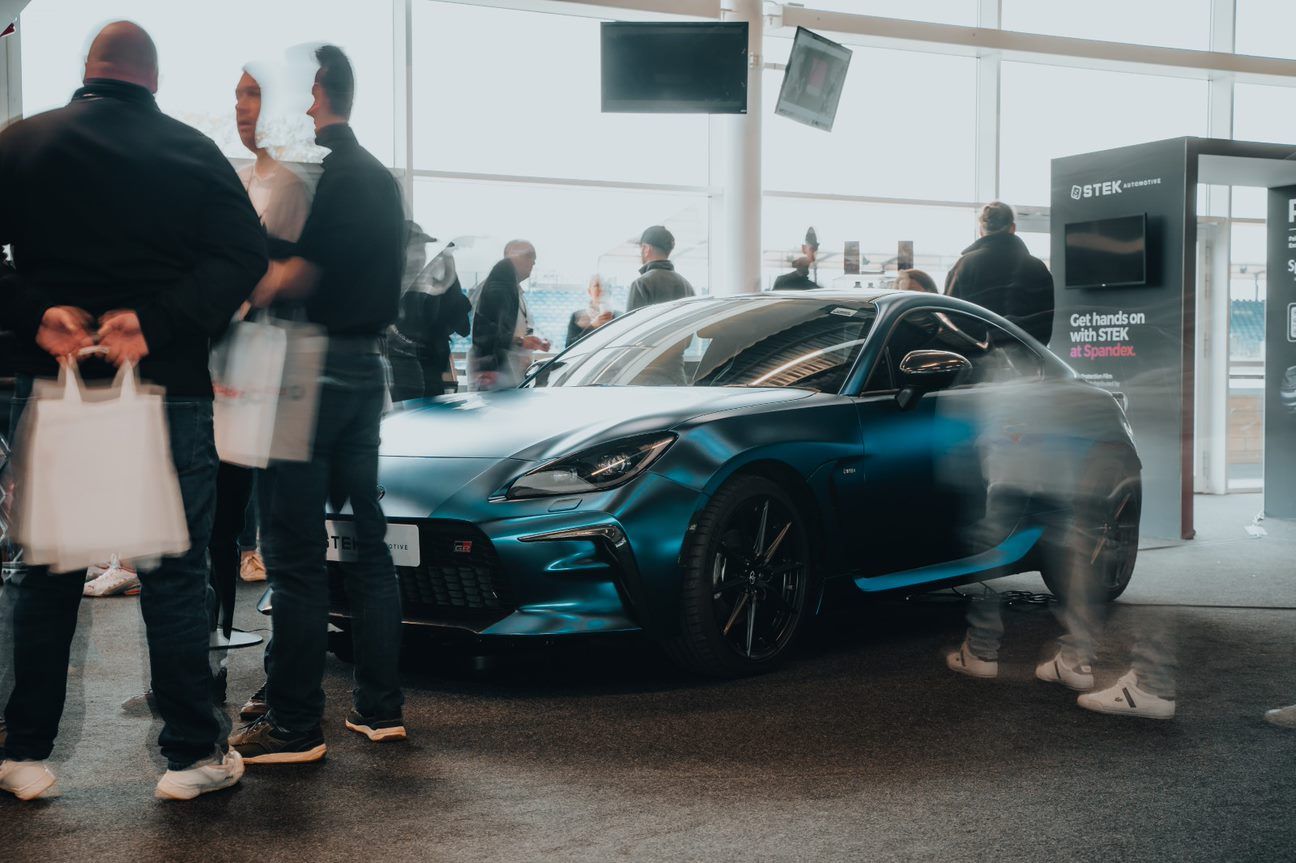 Rafal Kreczmer from RK Car design Ltd added: "WrapFest saved us so much time and is the best event in the industry for productive face-to-face conversations. We had hugely promising chats with companies in the PPF space. It's difficult to identify leads and the right people for your business from home, so to have them all under one roof was excellent and hugely beneficial."
High profile innovation
Inside the show floor, over 35 leading global brands from all corners of the industry showcased their latest product innovations for custom vehicle wrapping and detailing, including graphic, colour-change and paint protection films, window tints, digital printing, design software, cleaning products, and accessories and tools.
High profile exhibitors, including HP, ADAPT, 3M, William Smith, Spandex and pole position sponsor Hexis, were on hand to demonstrate their products to an audience of senior-level UK and international buyers. Pioneering new product launches included APA with its bespoke 'Silverstone Green' vinyl wrap (part of the Ultrajet range) which was created exclusively for WrapFest and launched at the event. 3M introduced its Black 2080 Wrap film series high gloss and 3M Scotch Guard PPF, KDX showcased its new carbon series, latest PPF and window films while Star Vinyls highlighted the Luxe Lightwrap range.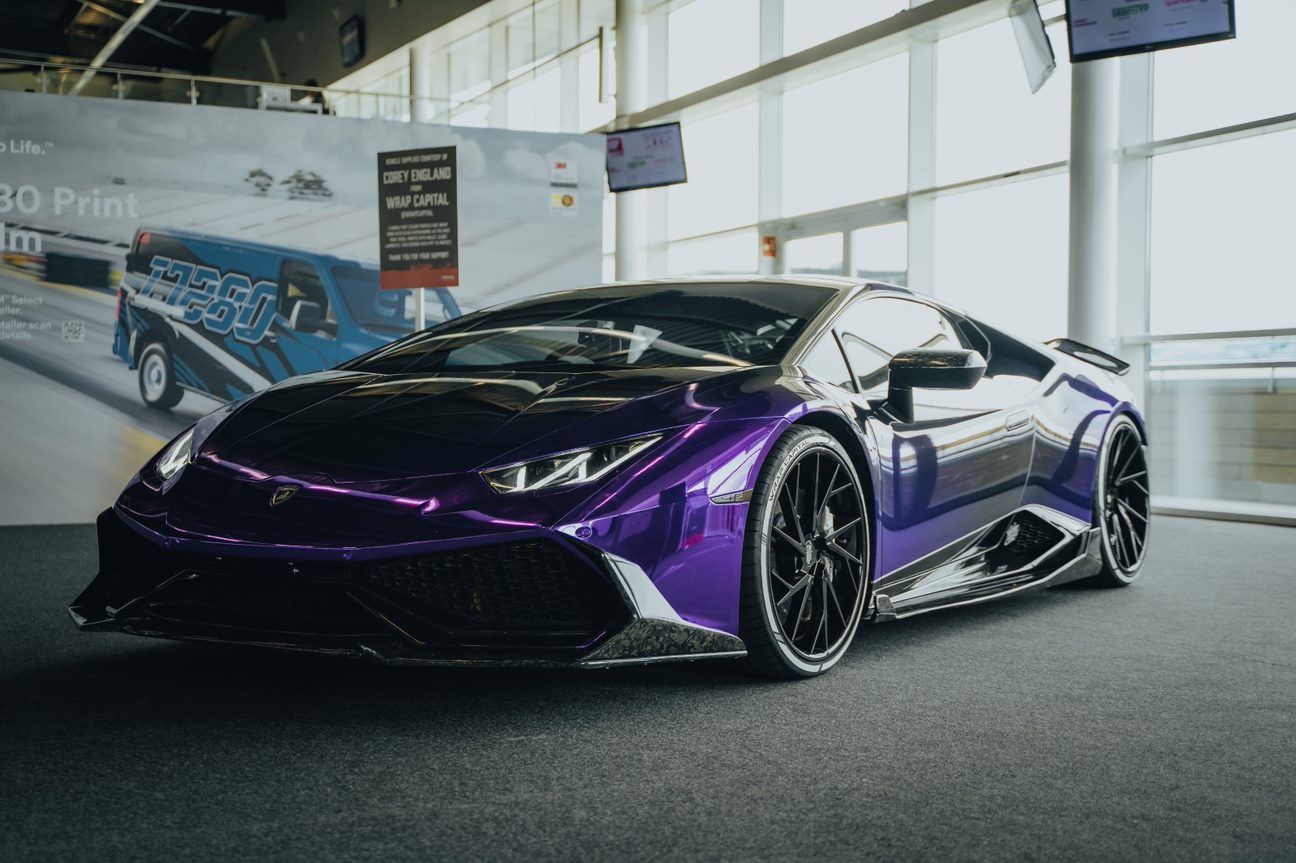 Pole position sponsor, Hexis exhibited its SKINTAC high performance cast wrapping film and BODYFENCE paint protection film (PPF), with the two products featuring in the company's live demonstrations from the pit garages. Attendees were also able to view the company's new range of vinyl colours including Polaris Blue Metallic "Grey Colour Flip" Gloss & Boreal Forest Iridescent Gloss.
Luke Wilkins from Hexis commented: "WrapFest has been one big overwhelming success. As a family-run business celebrating 30 years next year, being a pole position sponsor at WrapFest has definitely paid off. The visitor demographic was brilliant; we were able to speak to the right people to showcase our new colours and updated SKINTAC range.
"We also connected with existing customers, many of whom had travelled a long way to ensure they were there. You could really feel the buzz and sense of community in the wrapping industry with everyone really keen to learn. The market is massively growing and everyone wants an ultra-high gloss finish and for vinyl to look just like paint, these trends and more were showcased at WrapFest."
Learning from the best
The event's Wrap Talks programme proved to be a huge hit with visitors keen to hear from big-name influencers in the wrapping space including automotive enthusiast Archie Hamilton, livery design specialist Joshua Stedford (Livery Magic), wrap entrepreneur Corey England (Wrap Capital), and Wrap Institute trainer Justin Pate - one of the most technically gifted wrapping specialists around.
In an exclusive interview with celebrity wrapper Yianni Charalambous (Yiannimize), visitors heard how he established his Yiannimize empire and how a chance introduction to an Arsenal footballer led to him becoming the leading celebrity car customiser, known in celebrity circles as 'famous amongst famous people'.
Delegates were also fascinated by a session from World Wrap Masters Judge, Mr Sunshine – AKA Ole Solskin Ravn – who presented a technical description of what you need to know to wrap a race car. In his talk, he explored all the crucial elements which must be considered for such a competitive wrap, including wind flow and turbulence.
World Wrap Masters Regional Winner
WrapFest also played host to the inaugural GB & Ireland World Wrap Masters regional heat. Testing the competitors' wrapping skills, the competition involved a series of technical challenges and creative rounds over the course of the two days and was judged by some of the most recognised and respected wrapping experts, including Ole Solskin, Justin Pate, Kiss Lajos and, for the first time, Ivan Tenchev.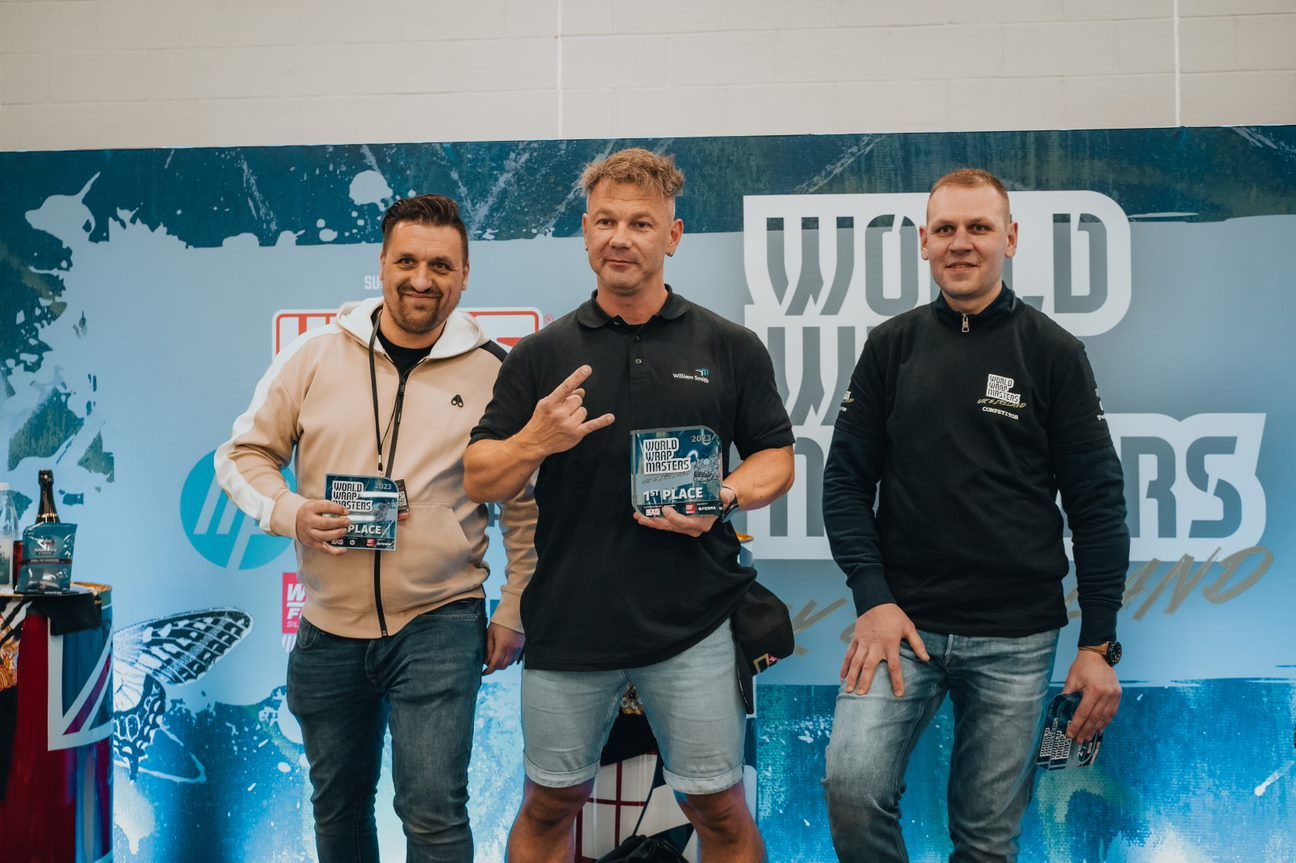 Mike Szwacki from MEK Wrap Squad was crowned the overall winner in first place, with Mariusz Dománski from WrapDoman and Chris Hooper from WrapWorx placing second and third respectively. Mike will now go head-to-head with the other finalists from across the globe in the World Wrap Masters final which takes place at FESPA Global Print Expo 2023 in Munich, Germany (23 – 26 May 2023).
A number of other competitions also took place throughout the two day event, drawing large crowds and eliciting huge excitement among visitors. The Show and Shine competition, which sought to find the 'coolest' wrapped car (submitted by visitors) provided a visual focal point on the festival forecourt. The winner of the People's Choice Award – voted for by the wrapping community based on the look of the wrap – on day one was Hedi Omar from Media Guy who drove his marble wrapped BMW from Glasgow to be at WrapFest, and day two, Kieran McCabe from RGVA Vehicle Graphics who entered his Nissan GTI.
'Wrap Warrior Battle', hosted by The Wrap Institute, also provided another opportunity for visitors to test their wrapping skills. Open to all visitors, the competition invited visitors to take part in one of three contests – Bing Bing Plate, Chance of Clouds and Wrap the Dots – offering competitors a unique opportunity to demonstrate and hone their skills using a variety of different tools and equipment, plus the chance to win some cool hats and t-shirts. Paul Holmes, Director of One Nine Signs was crowned winner of the inaugural competition bagging a host of prizes worth £600.
Commenting on the success of the event, Duncan MacOwan, Head of Marketing and Events, FESPA, said: "We always knew there was a gap in the market for an event like WrapFest but we had no idea just how much the industry needed it; the past two days have proven to us that launching WrapFest was one of the best decisions we have made.
"The event was absolutely buzzing with wrapping professionals keen to learn, network and do business. There were some seriously impressive demonstrations of the latest technology and solutions to meet the biggest challenges facing the industry and the show floor was inundated with visitors seeking new solutions for their businesses. There were also some fantastic learning opportunities across the two days, with a packed Wrap Talks schedule offering visitors insights into some of the latest topics trending in the industry. As the organisers of the event we are so proud to be able to facilitate this knowledge and business exchange."
For further information, visit www.wrap-fest.com